Upcoming Events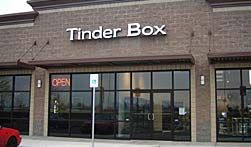 Tinder Box Tacoma

7921 S. Hosmer Suite B
Tacoma, WA 98408




pipes
,
pipe tobacco
,
cigars
,
cigar cutters
,
humidors
,
lighters
,
gifts
,
smoking accessories
,
flavored tobacco
,
pipe smoking
,
cigar smoking
,
father's day gifts
,
tobacco blends
Tinder Box Tacoma offers pipes, pipe tobacco, cigars, smoking accessories and unique gifts. Tinder Box has been your pipe and cigar smoking experts since 1928.
(253) 472-9993


or (800) 524-5612


About Us


About Tinder Box


Store Location


Contact Us



| | |
| --- | --- |
| | If you've ever set foot into one of the many Tinder Box retail tobacconist shops, then you probably understand why our customers keep coming back. Tinder Box was originally founded in 1928 by Ed Kolpin, one of the true pioneers of the pipe business. After many successful years Kolpin desired to give others the opportunity to experience Tinder Box and sold his first franchise in 1959, long before franchises where common among American business operations. For years Tinder Box was not only the largest pipe and tobacco retailer in North America, it was also the largest franchise operation. |

Today, with many locations throughout the states, Tinder Box has become synonymous with quality crafted pipes, original pipe tobacco blends, and fine cigars. If you are looking for that really special gift for a loved one, or for yourself for that matter, Tinder Box stores can make that special day even more special! To learn more about Tinder Box International, be sure to visit

tinderboxinternational.com

.

TINDER BOX TACOMA Established in 1971 The Tacoma Tinder Box is a traditional pipe and tobacco store. We carry a huge selection of premium cigars, pipe tobaccos, briar and meerschaum pipes, hookahs, hookah tobacco and accessories, humidors, cutters, lighters, pipe accessories, and gifts. We offer in house engraving and a pipe repair service, but we are best known for our superior customer service and vast industry knowledge. The Tinder Box in Tacoma first opened in the Tacoma Mall 42 years ago where it served Washington for decades, with it's outstanding customer service and great selection of cigars, pipes, and tobaccos. The store in the Mall was small, but always crammed with wonderful products. In 2009 the Tinder Box broke with it's historical roots and moved to a fantastic new location on Hosmer Street right along I-5 in Tacoma. The new location is twice the size as the mall store which allowed us to not only greatly expand our selection of quality products, but to make access to our shop much more convenient for customers.